Part 1: What to Do if I Get Sick or Injured Abroad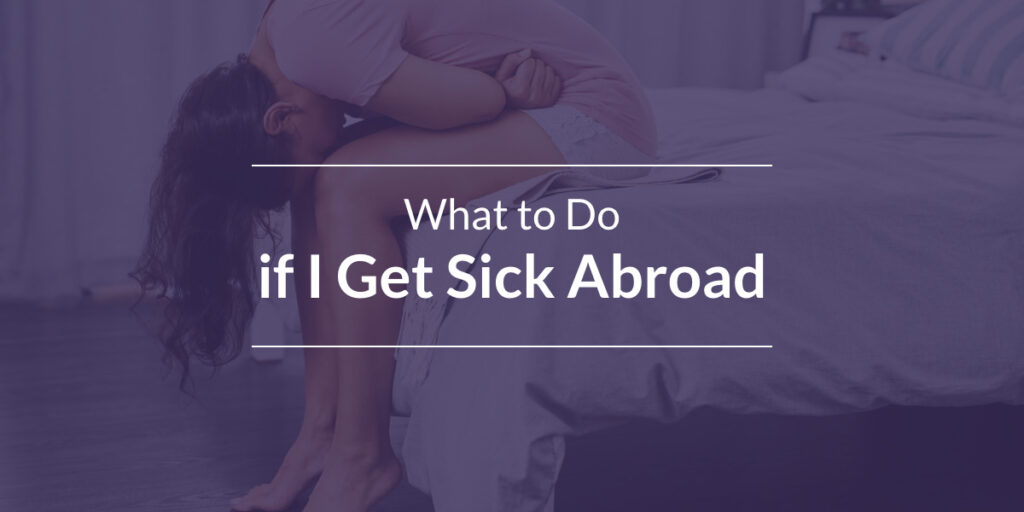 Many people enjoy traveling as a pastime. Seeing new sites and visiting new vacation resorts can be thrilling and inspiring. For others, new countries and continents are the locations of new clients and business partners, making travel an essential part of running a company.
Whatever the reason for your journey, there's one thing everyone wants to avoid — getting sick while traveling. Developing an illness is unpleasant at any time, but falling ill abroad can cause more anxiety and raise more questions. Whether you're considering traveling abroad or are in a new place and have gotten sick while traveling, take heart. We have the foreign travel health advice you're looking for.
Be Prepared Before You Leave
Anyone can become ill while traveling abroad, but taking the right preparations before you leave can make the situation a lot better for you if it does happen. Here are some ways you can prepare before your trip to ensure you experience the best possible situation if you happen to fall ill:
Insurance: Check with your insurance provider before embarking on your journey. Some plans do not offer international coverage, but you may be able to buy a short-term plan that does. Note that Medicare does not offer coverage for medical expenses accrued abroad. Be sure to bring your health insurance identification card on your travels. You should bring a claim form with you as well. 
Purchase a protection membership: In the wake of COVID-19, one thing people are opting to do more instead of buying traditional travel insurance is buying medical protection memberships. These memberships often provide the same benefits of travel insurance, with less of the hassle. Plus when you buy a membership from a direct operator like REVA, who owns, operates, and flys their own private medical jets you can save when compared to travel insurance since there are no broker markups!
Passport information page: Fill out the information page of your passport. This includes the name, address and phone number of a trusted individual who someone can call in case of an emergency. This information can also help with identification measures in case of an accident. 
Document any preexisting conditions: Take a letter from your doctor describing any preexisting medical conditions you have. This letter should also include a list of the prescription medicines you use, along with these medicines' generic names. 
Medicine: Bring an adequate amount of medications with you. Make sure each medicine is clearly labeled and in its original container. You should bring enough to last you longer than you anticipate being on your trip to account for unexpected delays. Also, note that some medicines are illegal in other countries, so you should check with the foreign embassy of the country you're visiting before getting on the plane. 
Blood type: Document your blood type before traveling in case you need blood transfusions while you are overseas. Ask your doctor for advice if you have a medical condition that requires periodic transfusions. 
Lists of English-speaking healthcare providers: Gather a list of English-speaking healthcare institutions in the area you'll be traveling. Write down their addresses so you can have an easier time finding them if the need arises. 
What to Do if You Get Sick While Traveling
Even after taking precautionary measures, you can still fall ill when you're out of the country. Follow these steps if this happens to you.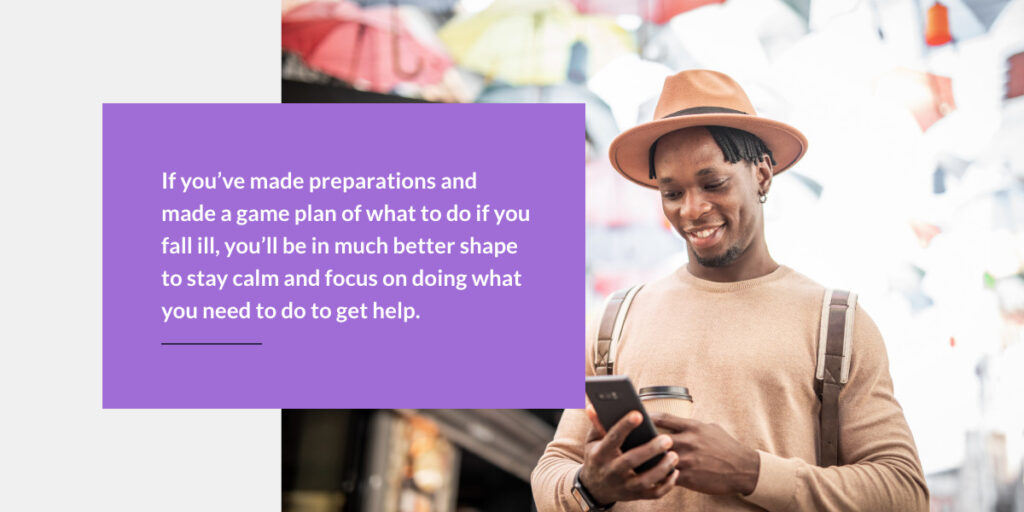 1. Stay Calm
Illnesses differ in their severity. Whether you feel mild symptoms developing or you can tell something more serious is occurring, it's essential that you stay calm. Panicking will make things worse, whereas keeping a calm composure can make a positive difference.
Make sure you remember to breathe. If you took the precautions mentioned in the section above, then you're already ahead of the game. This is one of the most crucial pieces of overseas medical travel advice. If you've made preparations and made a game plan of what to do if you fall ill, you'll be in much better shape to stay calm and focus on doing what you need to do to get help.
2. Visit a Local Pharmacy
In the case of mild illnesses, you may be able to visit a nearby pharmacy for over-the-counter (OTC) medication that can help with your situation. It's natural to feel like you need to see a doctor or a specialist if you contract various symptoms while you're in a foreign country. But there's a good chance that the pharmacy has what you need to get better.
Tell the pharmacist about your symptoms. See if they have any recommendations that could work for you without conflicting with any medications you're already taking. Getting meds from a pharmacy could save you a lot of time and money compared to visiting a doctor overseas, so it's worth a try.
3. Contact the Nearest United States Embassy or Consulate
It's wise to contact the United States Embassy or Consulate of the country where you're staying when you fall ill. They can give you a list of local medical facilities and healthcare providers that can help you based on your symptoms and needs. In serious cases, officers at the Consulate can help you get necessary medical assistance. They can even inform your family or friends back home about your situation.
4. Alert the Appropriate People
If you're able, tell the appropriate people about your illness and your current status. This can include people back home who may be able to send funds to cover medical bills. It can also include people who may simply want to stay informed about your wellbeing.
Alerting people also includes the people you were around when your symptoms started. These can include people you're traveling with or people you met on your travels. Let them know so they can be on the lookout for symptoms of their own and prepare for their own medical needs, if necessary.
5. Plan Your Trip Home
You'll probably find yourself thinking about your journey back home once you get sick overseas. You'll want to be back with your friends, family and your primary care doctor. It's important that you avoid flying on a commercial plane if you're still fighting symptoms like those common in a cold or pneumonia. The last thing you want to do is spread whatever you have to others. Also, note that commercial airlines can deny you entry if they deem you too sick to fly.
In these situations, you may need to charter a medical aircraft to take you home. An air ambulance could be your answer to give you the medical care you need during your flight back to the States and bring you safely to your destination.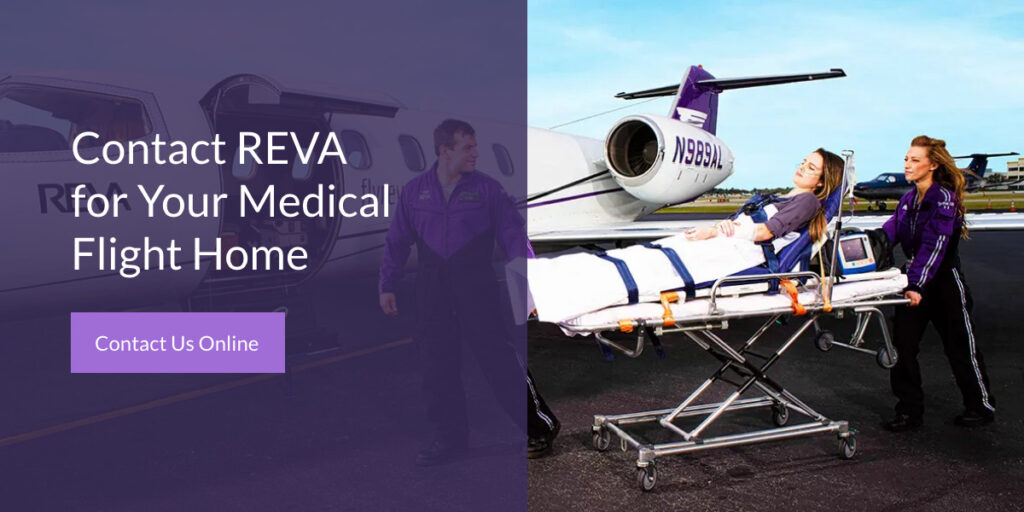 Contact REVA for Your Medical Flight Home
Whether you're the one who has fallen ill or you're wondering how to get a sick person home from abroad, REVA is the answer you've been looking for. Our simple process makes the complicated parts of securing a flight easier than ever. This means you get to focus on getting better. We'll handle the rest.
Contact us online today for more information. We're ready to help you get back home if you've fallen ill overseas. We look forward to serving you.