A U.S. Air Ambulance Company
Air ambulances are aircraft that have been custom configured to transport patients between distant locations quickly. At REVA, our aircraft are configured and staffed above industry standards and function as self-contained critical care units.
REVA provides an unparalleled domestic air ambulance service for patients in the United States. With a fleet of 16 aircraft and three U.S. hubs, our medical flights can take you back home or transport you to a medical facility across the country.

Request an air ambulance now
FLIGHT EXPERIENCE
HOURS COMBINED
Missions
Throughout 70 Countries
Coverage
Countries Flown To



Veteran Pilots
Our pilots must pass a demanding selection process and training program before they can fly for us. All pilots are highly experienced with diverse backgrounds, including medical, military and commercial aviation.

Experience in the Air
Our pilots have amassed more than 200,000 combined flight hours of experience. Before every medical flight, pilots participate in a risk- assessment analysis in order to be prepared for potential challenges that may arise.

Rigorous Training
Our pilots are required to follow a training regimen that exceeds Federal Aviation Administration (FAA) standards. Countless hours a month are set aside for training that includes textbooks, electronic educational materials, FAA updates and hands-on simulator practice.
Who We Are
Our qualification standards for our more than 250 medical crew surpass both state and federal requirements:
Our medical crew members must have at least three years of experience in trauma, emergency medicine, intensive care or critical care.
Our crew members include registered nurses for intensive care, critical care and emergency room, as well as paramedics, emergency and critical-care experienced physicians and registered respiratory therapists.
All of our medical crew members are certified in flight physiology.
Our medical crew members must engage in continuous training, including advanced airway training and simulated medical interventions.
At REVA, we have 50 veteran pilots with experience in medical, military and commercial aviation. Together, they have logged over 200,000 hours across more than 30,000 missions. Our three-tiered training program emphasizes excellence and risk management as our highest values. We meet or exceed safety credentials and guidelines from the International Civil Aviation Organization (ICAO), the Occupational Safety and Health Administration (OSHA) and the Federal Aviation Administration (FAA).
In addition to our headquarters in Fort Lauderdale, Florida, we also have hubs in Scotia, New York, and San Juan, Puerto Rico. These bases have left us positioned better than ever to respond to calls from Bermuda or the Caribbean.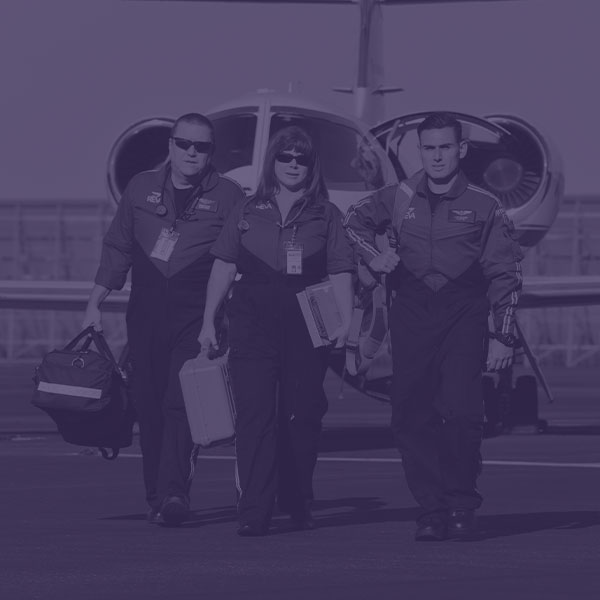 Our Credentials
REVA has earned associations and accreditations from industry experts as well as governmental and industry agencies, such as:
U.S. Department of Defense (DOD): The Commercial Airlift Board has approved REVA as a part of the DOD's Air Transportation Program. This approval process takes120 days to complete, with additional evaluations every six months to confirm that REVA upholds the highest quality and safety standards.
ARGUS Platinum: REVA has earned a Platinum Rating from ARGUS International, an independent agency that grades an aircraft operator's safety history. Earning a Platinum Rating requires the highest level of aviation quality and safety based on ARGUS's multi-point audit, including an in-depth historical safety analysis and evaluation of our emergency response plan.
National Accreditation Alliance Medical Transport Applications (NAAMTA): REVA has completed NAAMTA's comprehensive audit and demonstrated compliance in each of its standards. REVA is fully accredited for basic and advanced life support, critical care, neonatal and pediatric specialty care and commercial medical escorts.

How Our Domestic Air Ambulance Services Work
When you use our U.S. air ambulance, you can count on smooth medical transport to take you from bedside to bedside. Our state-of-the-art Communications Center is available 24 hours a day to make every aspect of your transit as seamless as possible.
What the Client Does
REVA is ready to take care of everything as soon as you contact us. All you have to do is follow The Three C's:
Call: Get in touch to request transport. The patient can do this, but a caregiver or case manager can also take this step.
Confirm: REVA coordinates everything, including clinical documentation, medical and flight crews and ground transportation.
Complete: We safely transport the client from bedside to bedside with the industry's best-trained medical team.
What REVA Does
REVA handles everything from initial contact to final destination with care, compassion and expertise. We manage the logistics so that our clients can focus on getting well.
We will check insurance and determine coverage along with all other financial options. We will also prepare all of the necessary documents and manage the reimbursement process.
Ground transportation is as much a priority as our air operations. From bedside to plane and from plane to final destination, we always coordinate our transportation services with the client's convenience and comfort first in mind.
We coordinate medical teams at both the starting and ending points of the trip. We ensure that the necessary and appropriate care is on hand at every stage.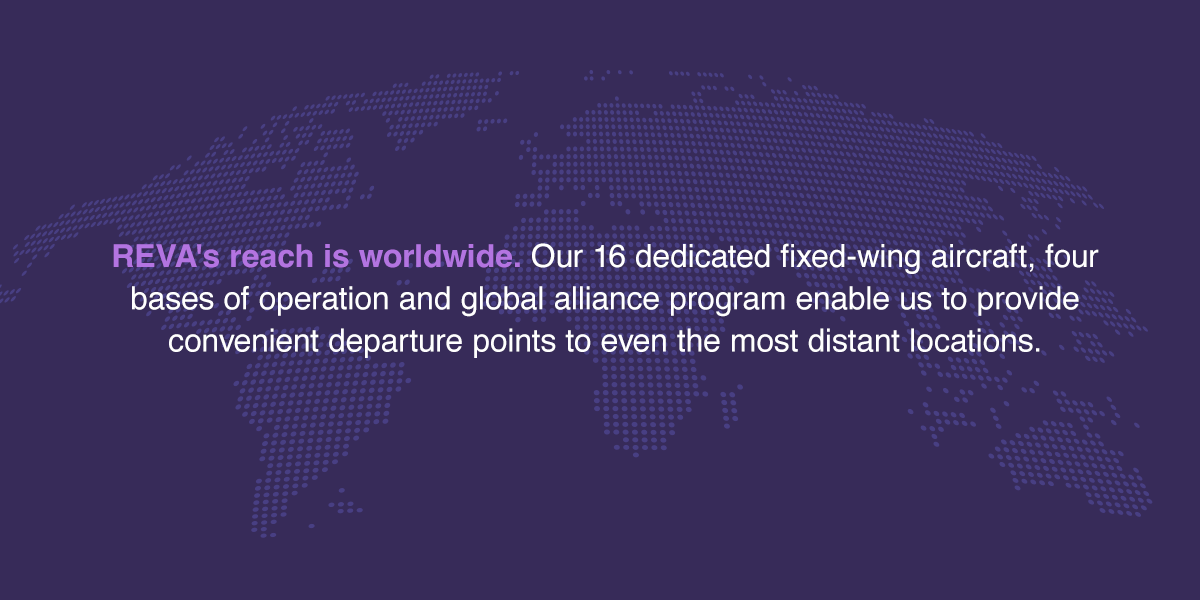 Request an air ambulance now
"Safety always comes first to our pilots. They are meticulously trained. They are experienced. They are reliable."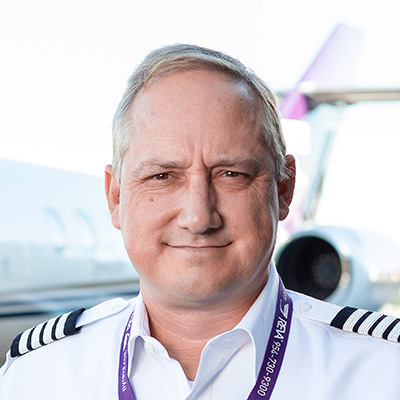 TRAVIS WERTH
DIRECTOR OF OPERATIONS
Travis' association with REVA began in the late 1990s, when the company he worked for, Cirrus Air, provided aircraft to Aero Jet, REVA's predecessor. He started flying directly for Aero Jet in 2002 and became Chief Pilot in 2003. He has been with REVA since its inception in 2012 and in 2021 became REVA's Director of Operations.
Domestic Transport Options
REVA is primarily a domestic air ambulance company, but we also offer other medical and air services. In addition to our high-quality air ambulance services, we provide medical escorts and private charters.
Air Ambulance
Also known as medical air transport, an air ambulance can transport you across the country to a specialist or a preferred hospital or evacuate you to the closest medical facility. An air ambulance is also typically the fastest option for patient transport.
REVA handles every detail of patient transfer. Before transport, our medical team visits and assesses the patient. Meanwhile, our 24/7 Communications Center evaluates the insurance and payment options and arranges ambulances to transport the patient and passengers at both starting and final locations.
Medical Escort
REVA offers medical escort services for patients capable of flying commercially and who need assistance to do so.
We schedule all ground transportation and commercial airline flights for the patient and any accompanying family members. For patient comfort, we provide first or business class seating.
Our 24/7 in-house flight nurses continuously monitor patient care throughout the entire transport. This includes expert pre-flight assessments as well as flight monitoring. REVA's 24/7 Communications Center also performs complete transport status reports.
Private Charters
For those looking to enjoy the luxury of one of our executive configured Learjet 45XRs, REVA also offers chartered flights. The 45XR is the perfect choice for a safe and relaxed private flight, whether for business or pleasure. This plane has room for up to six passengers and 65 cubic feet of passenger storage space, along with restrooms, in-flight Wi-Fi and a stand-up cabin.
You can also request up to four medical personnel for your private flight if you require medical assistance. Our Learjets each have an auxiliary power unit and are equipped with advanced medical equipment capabilities, including an onboard oxygen capacity of M tank 2,000 psi and four built-in spectrum stretchers.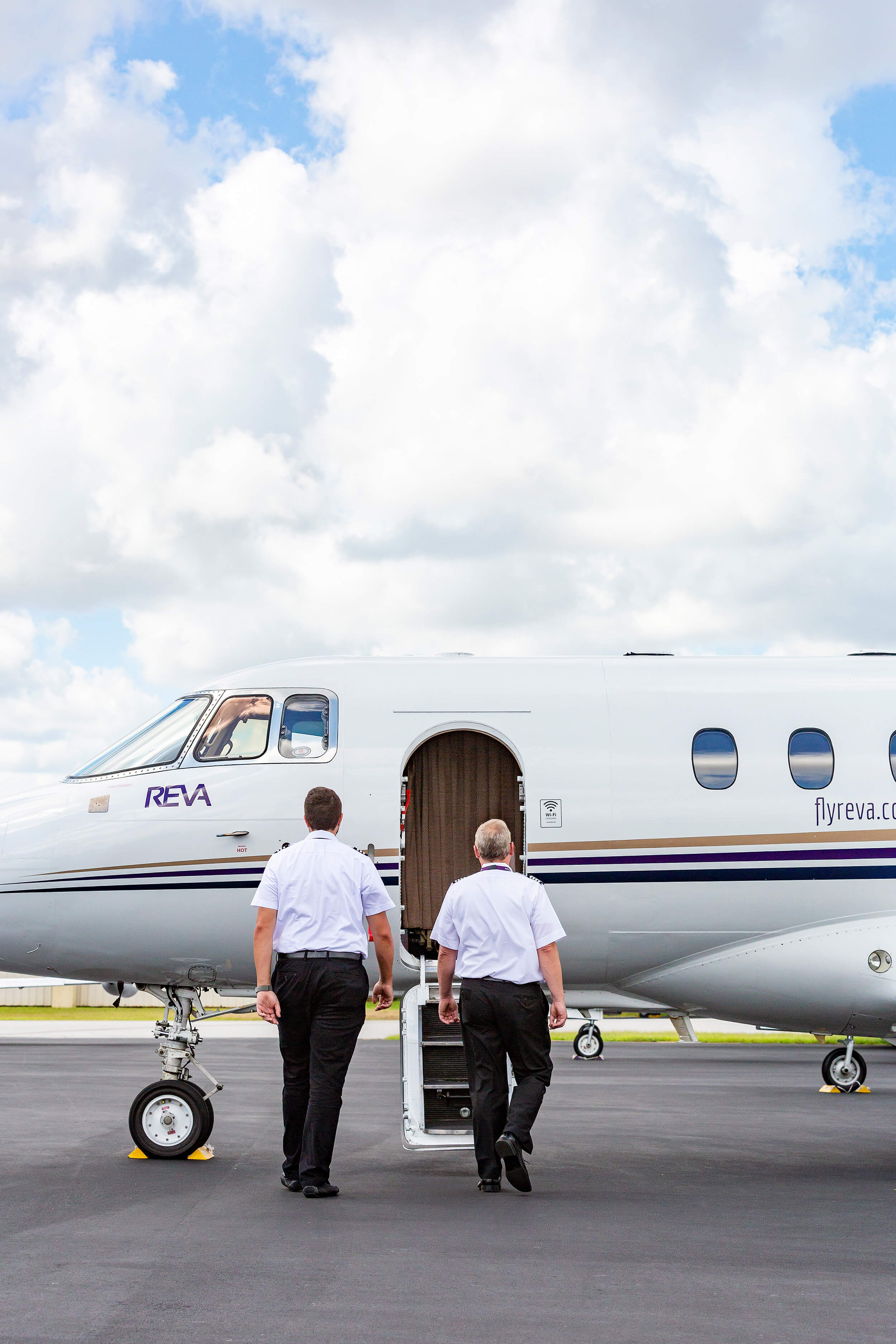 Frequently Asked Questions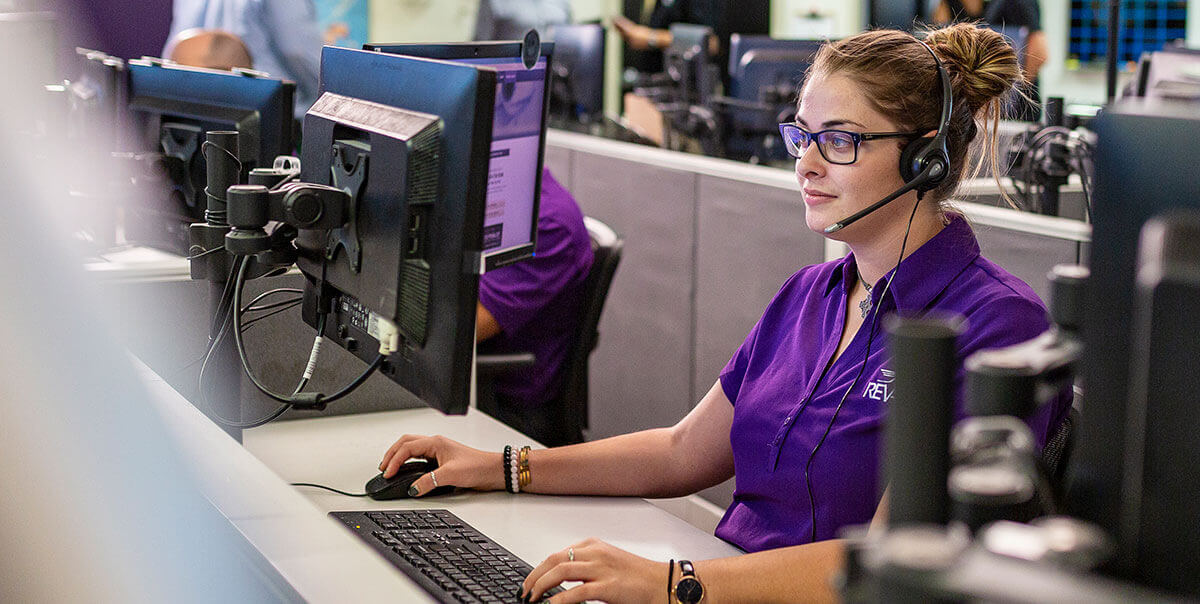 Here are the answers to a few common questions about domestic air ambulance services.
Q: Where Can REVA Pick Me Up?
REVA can coordinate your pickup anywhere in the U.S. Additionally, our Learjet and Hawker planes also have long-range flight capacity. Their range allows REVA to fly to Europe, the Caribbean and North, South and Central America.
Q: What Does a Domestic Air Ambulance Cost?
REVA provides an all-inclusive quote that includes the costs for our highly-trained medical team, required equipment and medications, ground ambulance on both ends and our ICU-configured aircraft.
Q: Will Insurance Cover Domestic Air Ambulance Services?
REVA is a provider for several insurance organizations and can manage all insurance procedures. We determine coverage and financial options, prepare any necessary documents and manage the reimbursement process. REVA's insurance reimbursement specialists are here to remove financial barriers around your care and answer any questions about your insurance benefits.
Q: How Do I Know if I Qualify for an Air Ambulance?
The doctor administrating a patient's care determines if evacuation is medically necessary. If they can not adequately evaluate, diagnose or treat an injury or condition that poses a threat to the patient's life or limbs, the emergency medical evacuation that an air ambulance conducts will begin.
However, REVA'S medical escorts and private charters are available to anyone. If you believe you may need assistance on your flight, contact our Communications Center for more information.
Request an air ambulance now

Choose REVA for Domestic Air Ambulance Transport
Whether you need medical evacuation, transport to a specialist or just want to be closer to home, REVA is here to help manage the process. Call our 24/7 flight coordinators at 305-224-6089 or get a free quote for an air ambulance or medical escort with our quick and easy request form.