INTERNATIONAL AIR AMBULANCE
international air ambulance company
REVA has been providing international air ambulance services for over 30 years to patients across the globe. Our international medical flights can be there to transfer you back home after an accident abroad, take you to see a specialist in a different country or transport you to a medical facility closer to loved ones. No matter where you are in the world, REVA is uniquely qualified to quickly and safely get you where you need to be.
When you fly with our international medical flight company, you will be under the care of highly trained doctors, nurses, paramedics and even pilots who are attentive to the unique circumstances of medical care in the air.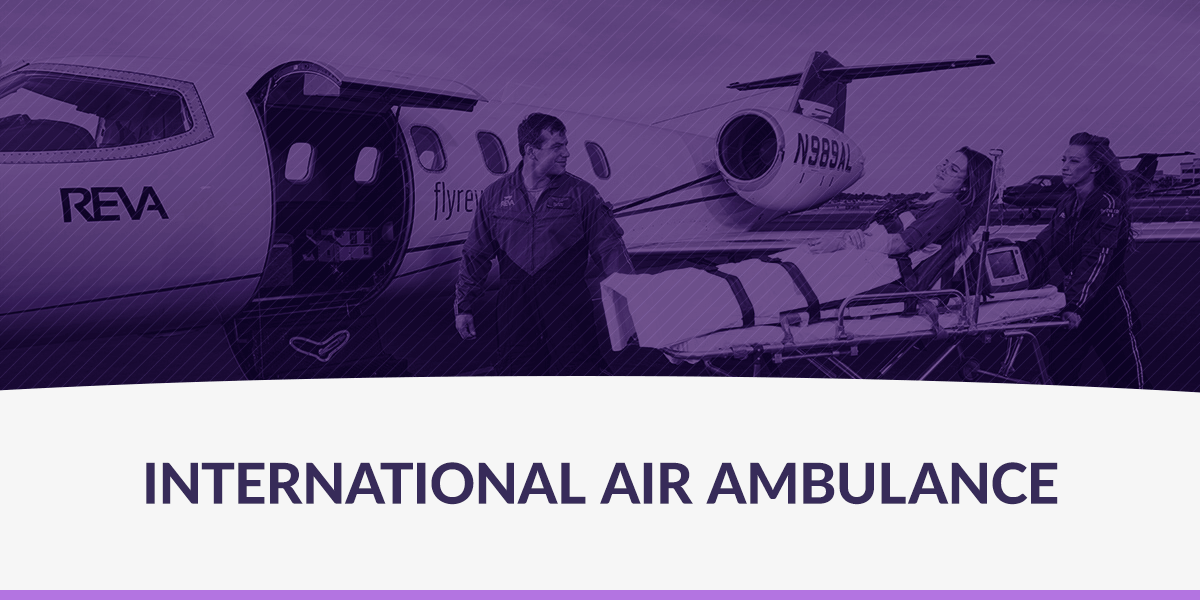 Request an air ambulance now
FLIGHT EXPERIENCE
HOURS COMBINED
Missions
Throughout 70 Countries
Coverage
Countries Flown To



Veteran Pilots
Our pilots must pass a demanding selection process and training program before they can fly for us. All pilots are highly experienced with diverse backgrounds, including medical, military and commercial aviation.

Experience in the Air
Our pilots have amassed more than 200,000 combined flight hours of experience. Before every medical flight, pilots participate in a risk- assessment analysis in order to be prepared for potential challenges that may arise.

Rigorous Training
Our pilots are required to follow a training regimen that exceeds Federal Aviation Administration (FAA) standards. Countless hours a month are set aside for training that includes textbooks, electronic educational materials, FAA updates and hands-on simulator practice.
We Have the Range — Global Medical Air Transport Services
Expert medical providers are available 24/7 through our worldwide alliance network to provide broad availability to any country. We have several aircraft types distributed across the globe, ready for your assistance where and when you need us.
REVA's Track Record
REVA's fleet of 16 dedicated aircraft is capable of short-range, long-range domestic and international flights. Our highly trained team of over 350 air-ambulance professionals upholds educational standards higher than the industry requirements. Meanwhile, our global alliance with 27 audited industry partners and our four strategically located bases in North America, the Caribbean and Europe have given us a broad availability all across the globe.
As of 2021, REVA has completed over 30,000 flights in 70 countries — but our reach is worldwide.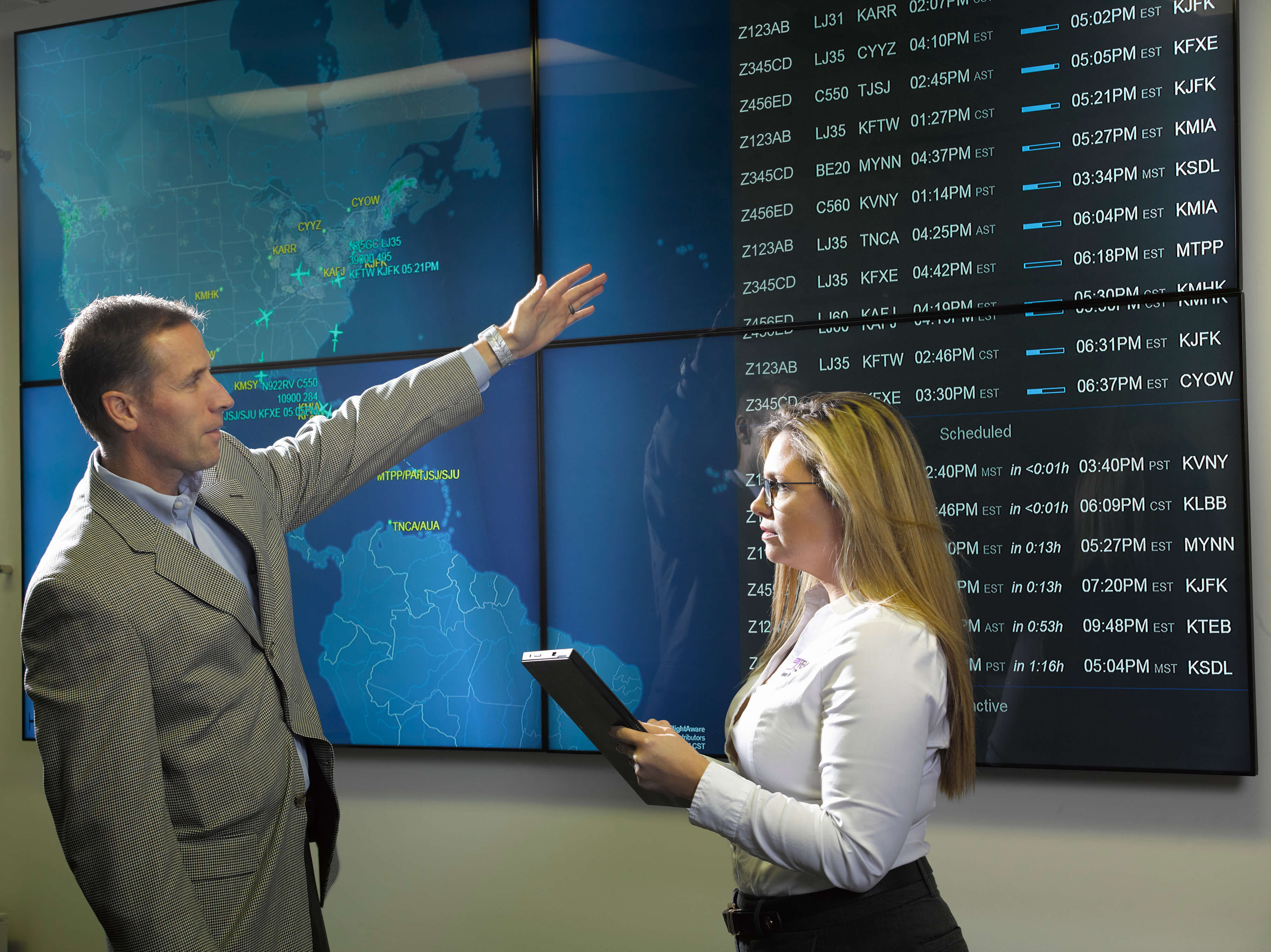 Our Global Coverage
REVA's reach is worldwide. Our 16 dedicated fixed-wing aircraft, four bases of operation and global alliance program enable us to provide convenient departure points to even the most distant locations. Our expert management team can quickly coordinate a safe, reliable patient transfer to any country.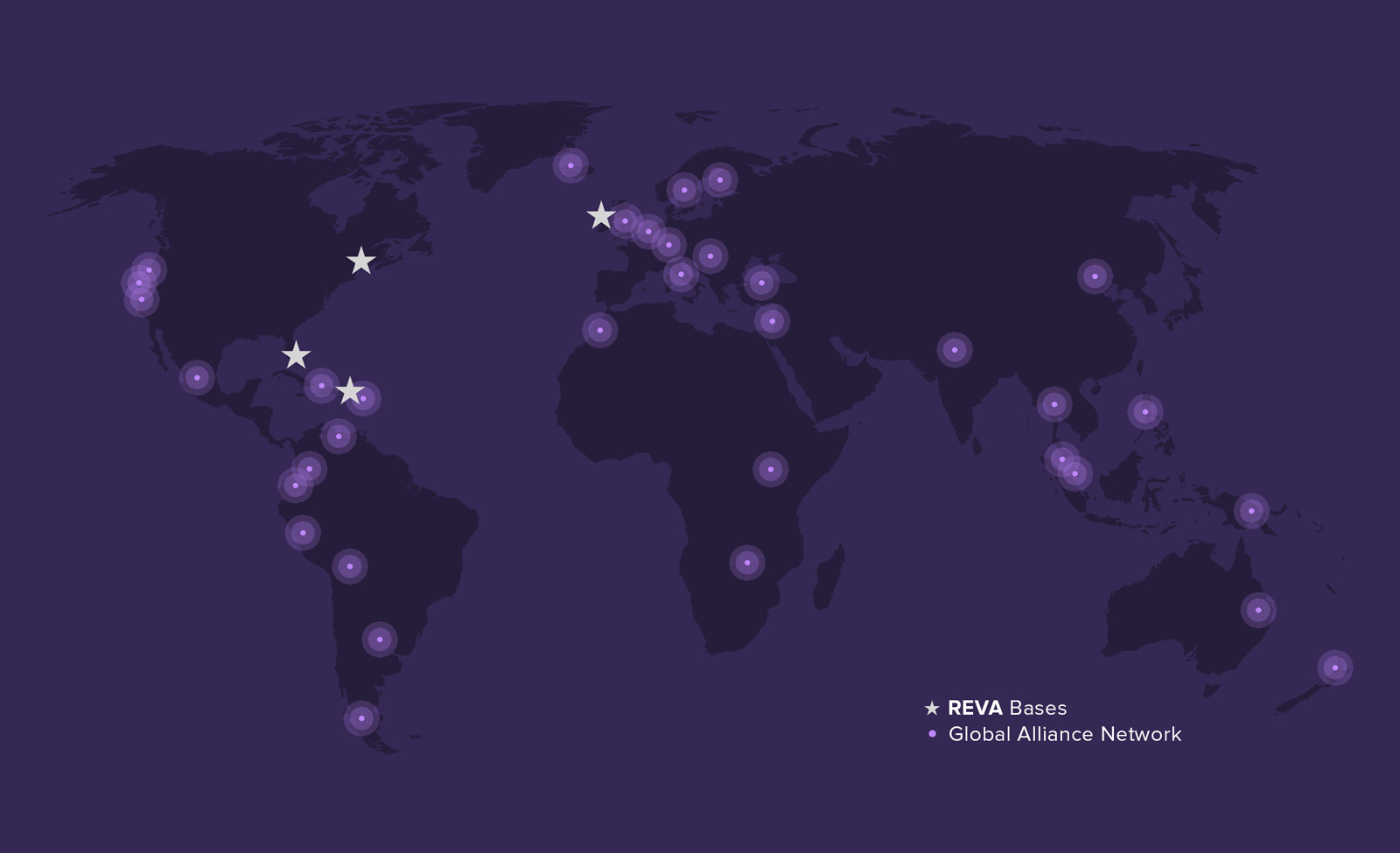 Europe
We provide extensive international medical flight services that cover all 44 European countries. With one base in Ireland and several global alliance partners throughout the region, REVA is among the top providers for medical flight transport within Europe and from Europe to the United States.
When a patient needs emergency treatment unavailable in their region, an air ambulance will transport them to the closest European or U.S. facility that can provide adequate care. Many international air ambulance companies also offer medical escort services for patients who need to return home after critical care or travel for extended treatment in another country, and REVA is no exception.
South America
REVA's extensive global alliance network enables our 16 dedicated aircraft to cover the entire South American region using over a dozen strategic hubs for fast response and transportation times.
We provide emergency international medical flights to all 12 South American countries for immediate evacuation. REVA can transport critical-care South American patients to the nearest facility that can administer treatment. Our air ambulance services also provide patient repatriation for safe travel home or to a separate facility after immediate care.
Central America
Air ambulances frequently serve Central America due to its many isolated and rural areas. At REVA, we have logged missions to all seven Central American countries, from Belize, Guatemala, Honduras, El Salvador, Nicaragua, Costa Rica and Panama.
Our fleet of 16 aircraft can transport patients in Central America who require immediate medical evacuation to the nearest equipped facility — which could include flights to a U.S. facility with specialized equipment or medical professionals who can provide treatment. We also offer medical escorts to and from Central American countries, helpful for returning home or traveling to a separate facility for additional treatment.
Caribbean
At REVA, we're well-equipped to handle medical transport throughout North America. Whether you break your leg on a Canadian ski trip or get sick on vacation in Mexico, we understand the importance of getting back home fast and safely.
We can even ensure access to air ambulance services from the Caribbean to the U.S. in case of emergency during a trip abroad. Our international medical evacuation and repatriation services cover remote workers stationed in any of the 13 Caribbean countries.
Africa
When a local doctor cannot provide appropriate care, an air ambulance will transfer the patient to another African facility or a hospital in the U.S. capable of providing adequate treatment for the injury or illness. We have medical teams ready to cover evacuation and repatriation services to all 48 African countries. REVA can offer each patient quicker responses and transportation times with several global alliance hubs throughout the African region.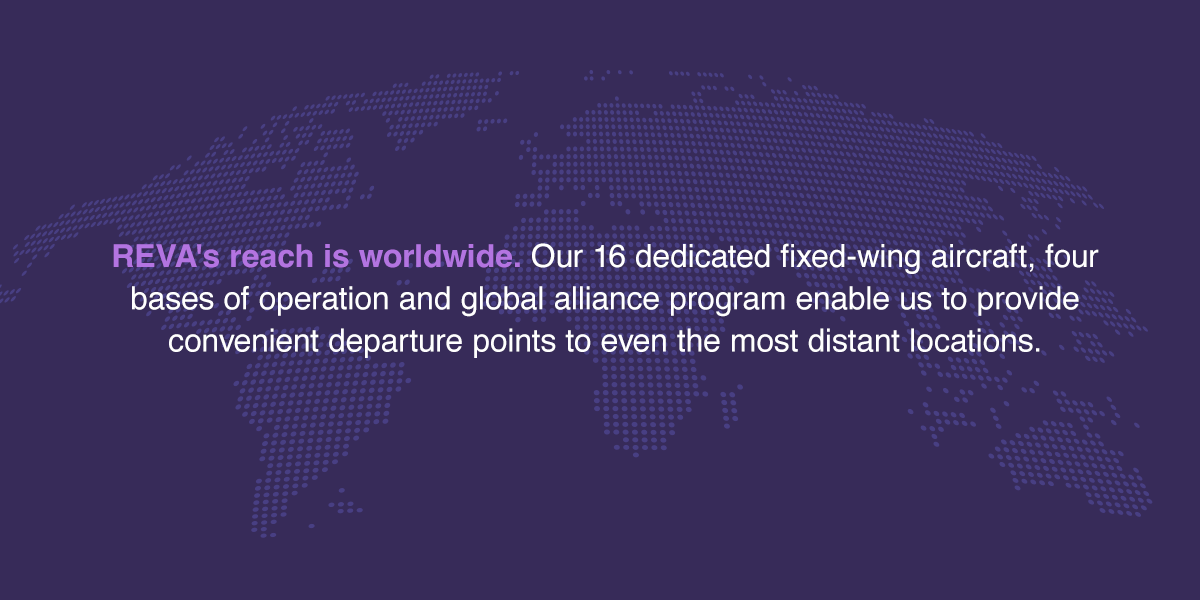 Request an air ambulance now
"Safety always comes first to our pilots. They are meticulously trained. They are experienced. They are reliable."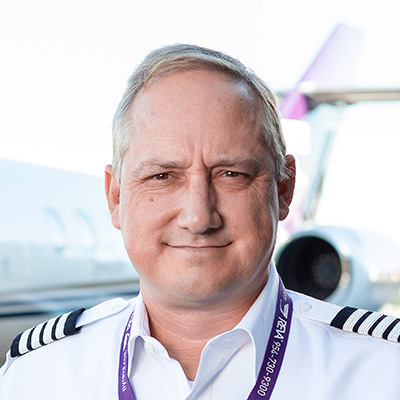 TRAVIS WERTH
DIRECTOR OF OPERATIONS
Travis' association with REVA began in the late 1990s, when the company he worked for, Cirrus Air, provided aircraft to Aero Jet, REVA's predecessor. He started flying directly for Aero Jet in 2002 and became Chief Pilot in 2003. He has been with REVA since its inception in 2012 and in 2021 became REVA's Director of Operations.
International Transport Options
The available options for international medical transport generally include air ambulance, medical escorts and private charter.
Air Ambulance
International air ambulance services provide patients with custom-configured aircraft for global medical transport. Typically, using an air ambulance for medical evacuations is the fastest way to transport a patient from one locale to another. REVA handles every detail of the patient's transfer, including ground transport at the departure and arrival sites.
Before transport, the medical team will visit and assess a patient. A customer service representative at our 24/7 communications center will arrange an ambulance to take the patient and passengers to the air ambulance. For international flights, customs and immigration will meet the patient at the private airport terminal to ensure a timely departure to the destination.
Medical Escort
Flight nurses and medical escort services usually provide care to patients who require medical assistance during transport but do not need a complete air ambulance service. Most times, medical escorts cover cases of patient repatriation, which is when a client requires extended treatment at a separate facility or transport home after emergency care.
When you use REVA's medical escort service, we will schedule all your commercial airline flights and ground transportation for you. Our flight nurse will perform continuous patient care and monitoring throughout the transport, including wheelchair transport by van and through the airport. Once on the aircraft, a patient can feel comfortable in first- or business-class seating with a nurse prepared to offer the specific care they need when in the air.
Private Charter
For passengers who want impressive performance, exceptional comfort and privacy throughout the entire trip, REVA's Learjet charter flights will help you reach your destination faster while ensuring your safety and comfort throughout the journey. Our executive configured Learjet 45XR is available for all types of passengers, whether you're traveling for business or pleasure. However, many clients requiring medical assistance during transport can also benefit from traveling in one of our premier private charters.
In addition to its typical aircraft amenities, the Learjet 45XR includes advanced medical equipment capabilities such as four built-in spectrum stretchers and an onboard oxygen capacity of M tank 2000 psi. Passengers can request a flight nurse to attend them during the trip or have the aircraft equipped with up to four medical personnel. And like any other REVA service, we'll arrange all the medical care and passenger transport details for you.
Our executive configured Learjet 45XR can travel up to 2,100 miles with a global reach and a cruising speed of 500 mph. The spacious cabin provides comfort and privacy for up to four additional passengers depending on a patient's needs. When you charter one of REVA's Learjet private flights, you can rest easy knowing we use the most trusted technology and techniques. The Learjet 45XR features a traffic alert and collision avoidance system, while REVA's pilots must undergo routine training to exceed the rigorous industry standards.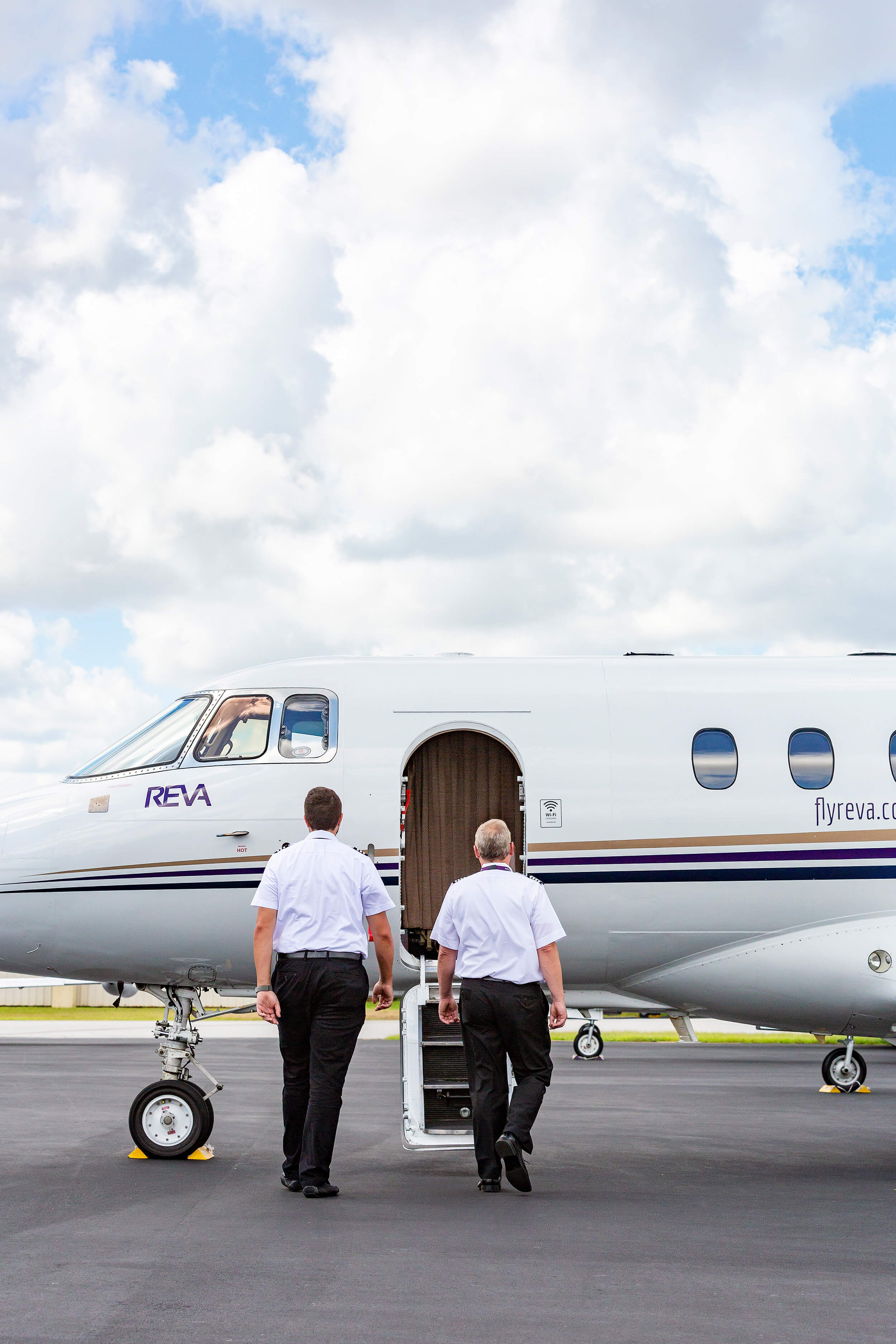 Frequently Asked Questions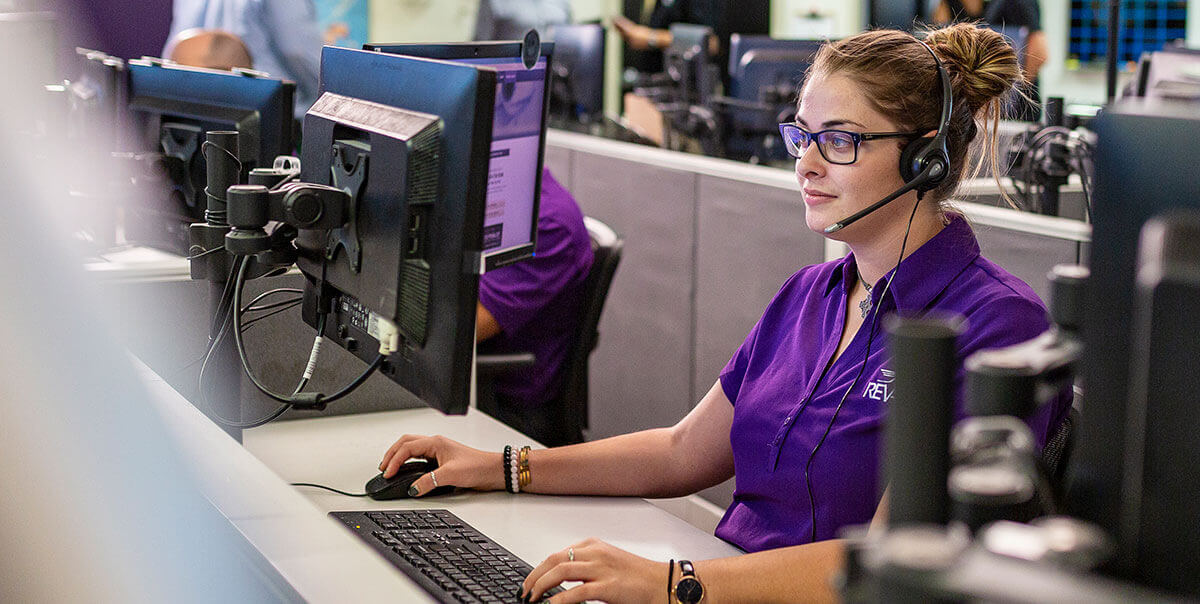 When you need medical care in the air, it is essential to ask the right questions. Here are some things you should know about arranging transport through an international medical flight company.
Q: What Does an International Air Ambulance Cost?
A: The cost of international air ambulance services can vary widely depending on the requested service or the patient's requirements. Factors to consider are the type of aircraft, the distance between departure and arrival sites, countries traveled or traversed and any specialized medical personnel, equipment or medications required. For some companies, it is crucial to determine whether their price covers landing fees, flyover permits, airport taxes, international fees, international handlers and fuel fees.
At REVA, we provide an all-inclusive quote for the air ambulance cost. Our prices even include our specialized medical team and ground transport on both ends, plus any medication, equipment and the type of aircraft required for the patient.
Q: Will Insurance Cover Air Ambulance Services?
A: As a provider for several insurance organizations, REVA can manage all of your insurance procedures. We will find the coverage, determine the financial options, prepare the necessary documents and manage the entire reimbursement process. Our insurance reimbursement specialists aim to remove financial barriers around patient care and answer all questions related to your insurance benefits. Please get in touch with our flight coordinators for more information.
Q: Can Family Members Travel With the Patient?
A: REVA's fleet of medical aircraft welcomes loved ones to accompany the patient. Depending on the type of aircraft and the number of medical personnel on board, we can accommodate up to four additional guests for long-range domestic or international transports. Meanwhile, our short-range medical transports can take up to two other passengers.
Q: How Do I Request an International Air Ambulance?
A: Once you contact us, REVA takes care of everything regarding your request for international air transport. Patients, caregivers and case managers alike can request transportation by completing our request form or calling one of our flight coordinators. From there, we will coordinate all aspects, including the medical and aviation teams, clinical and travel documentation and bedside-to-bedside ground transport.
Request an air ambulance now
Choose REVA for International Air Ambulance Transport
Patients may find themselves in a foreign country requiring international medical transport services for any number of reasons. Whether you need international medical evacuation by air ambulance, medical repatriation or another type of medical care during your flight, REVA is ready to help. Call one of REVA's flight coordinators at 954-730-9300 for an immediate response, or complete our quick request form for your free air ambulance or medical escort quote.